[vc_row][vc_column][vc_column_text]Dj Maleeq Playing on Dance Jam and Party Up North Battle 7-8 Maj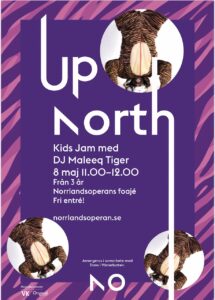 Up North är ett initiativ av Norrlandsoperan som tillsammans med andra aktörer lyfter street kultur i Västerbotten. Up North ska fungera som ett paraply – eller plattform om man så vill – för street kulturen i vår norra landsände. i maj varje år anordnar Norrlandsoperan det största battlet i norra Sverige – Up North Battle.
With a clear focus on dance. In May each year, Norrlandsoperan hosts the largest dance battle north of Stockholm – Up North Battle. 
[/vc_column_text][/vc_column][/vc_row]